The Geospatial Sensing Conference 2019 takes place at the Technologiehof, Münster.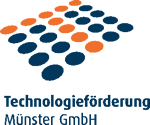 Technologieförderung Münster GmbH
Mendelstraße 11
48149 Münster
Telefon: 0251 980-1104
If you are travelling by car…
You can reach Münster from the Autobahn A1 or Autobahn A43. From the Autobahn A1 take the junction/exit Münster Nord and follow the Steinfurter Straße (B54) in the direction of the city center. Turn right onto the Orléans-Ring, then right onto the Mendelstraße and left onto the Corrensstraße.
Parking space is limited.
If you are travelling by train (Deutsche Bahn)…
If you are travelling a considerable distance to reach Münster, you might consider using the "Veranstaltungsticket". This is a fixed price ticket and can only be booked here. Additional ticket options are also displayed.
If you are travelling by bus (ÖPNV)…
From the main train station (Hauptbahnhof), take either bus number 4 oder 13 to bus stop Mendelstraße.
If you arrive by plane (Flughafen)…
The nearest airport is Flughafen Münster/Osnabrück FMO (in Greven). A taxi stand is located immediately outside the terminal. Buses S50, D50 and R51 leave the airport at regular intervals.
Find your bus at stadtwerke-muenster.de.