Environmental monitoring with Copernicus satellite data
Innovative analytical methods for satellite and in-situ data to improve water management monitoring services.
The research project WaCoDiS (Copernicus-based services for monitoring material inputs in watercourses and dams) aims to
increase environmental monitoring efficiency by combining various spatial data, sensor data and model components in order to

set up dynamic catchment area maps (vitality of vegetal cover, actual crop rotation, land use, etc.) based on Copernicus data (high temporal resolution)
optimize models for seidment and material inputs in watercourses and dams
quantify and geo-locate sediment and material inputs (nutrient contaminiation)

develop, implement and control specific measures for water protection.
Project partners focus on developing a solution that combines heterogeneous data sources (in particular Copernicus data), existing web-based information systems and novel model components based on interoperable OGC interfaces. Sentinel-1 and Sentinel-2 Copernicus satellite data will be used to determine different physical and chemical soil values that contribute to the exploration of heavy rain effects on agricultural areas.  A resulting web-based monitoring tool will be available that provides useful information and functionalities to different water management user groups within the Wupperverband.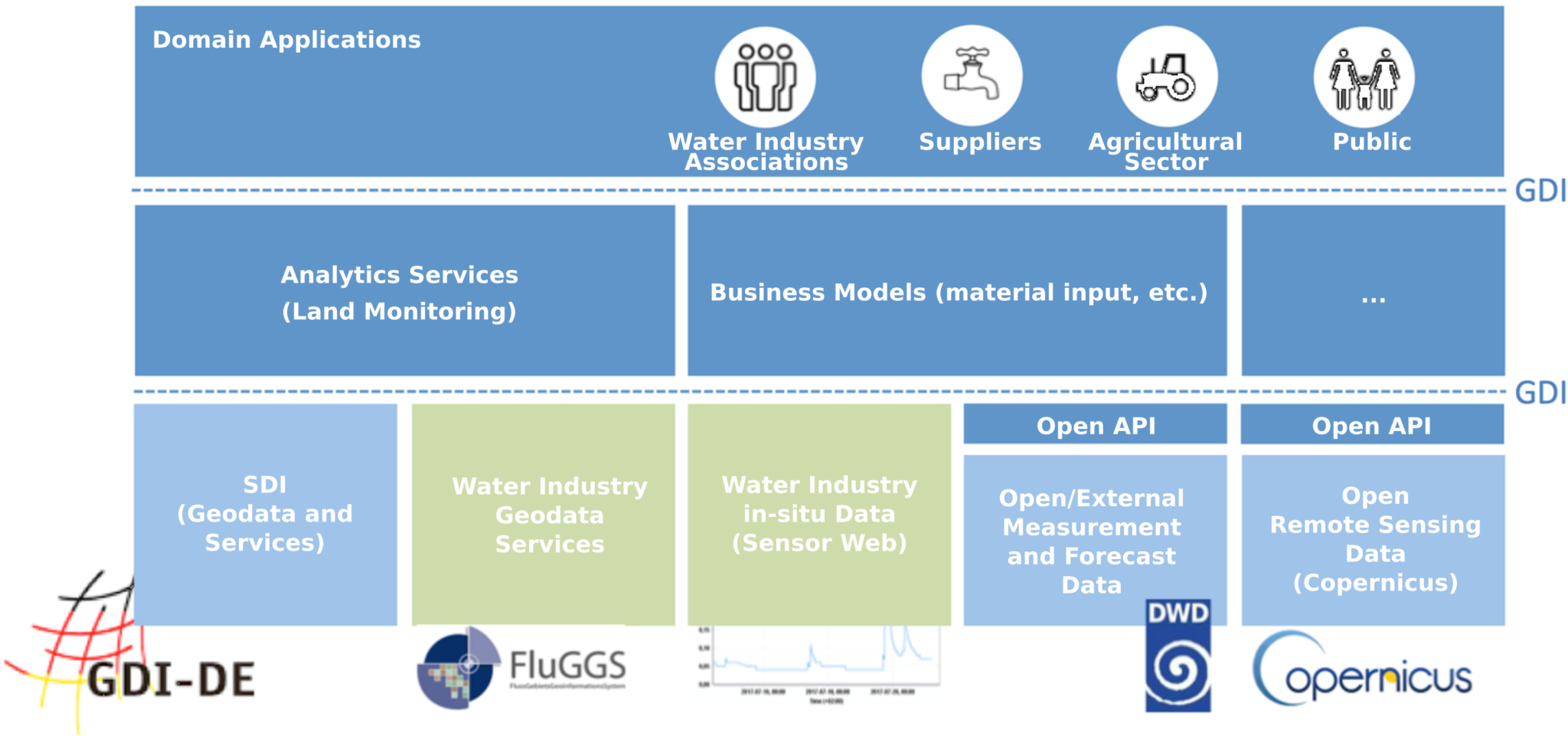 System Architecture Design
52°North designs the WaCoDiS system architecture for the integration of satellite data based on interoperable open source components. The focus is on the connection to the Copernicus infrastructure (CODE-DE) and the extension of the sensor web technology to deal with big raster data. Furthermore, a key challenge will be the combination of in-situ and satellite data with the domain-oriented models. These calculation models can be implemented as OGC Web Processing Services (WPS) so that their functionality can be accessed within the Wupperverband's Spatial Data Infrastructure (SDI). Iterative system tests and adjustments ensure that the system fulfills the various user requirements Finally, 52°North validates the system in test scenarios for the different user groups to prepare it for operational usage.