Improved, Automated, Large-scale Floodplain Monitoring
Integration of satellite and in-situ sensor data to improve the automated large-scale monitoring of floodplains
The goal of SenSituMon is the development and testing of innovative methods and technologies for the generation of near-real-time information products for the large-scale monitoring of flood areas from satellite and in-situ sensor data. The research results will serve as a basis for the development and commercialization of operational services based on the Copernicus earth observation system and other satellite missions.
The developments are based on the requirements of insurance companies, which rely on up-to-date information on the location, intensity and duration of floods for the rapid response to flood-related damage events. In addition, the history of the flooding is to be documented so that detailed information about the occurrence, frequency and duration of flooding events for the affected areas is available. This information can be used, for example, to validate flood risk assessments.
In addition, requirements for monitoring flooded areas for further applications in agriculture and water management will be analyzed. Work initially focuses on the North Rhine-Westphalia in Germany. Based on the results of this project phase, the scalability of the approach for the area of Germany and Europe will be assessed.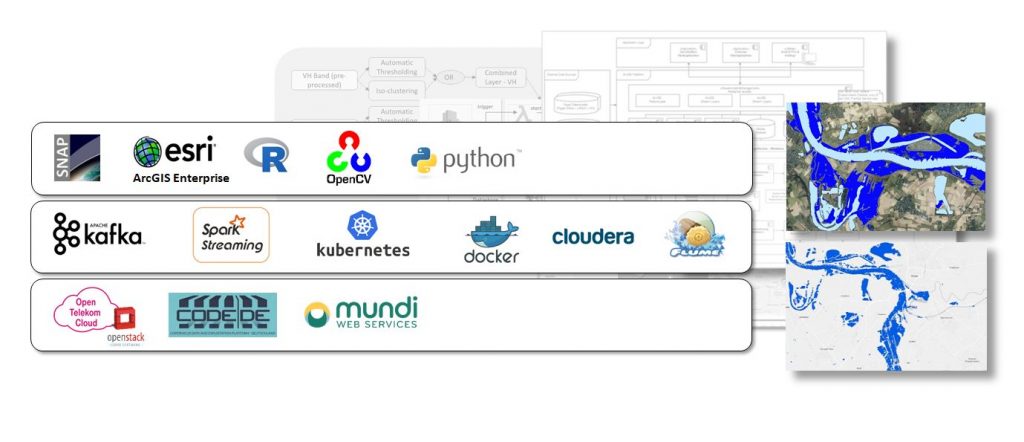 52°North develops and evaluates new methods for the automatable spatiotemporal delineation of flood events from meteorological and hydrological measurement and observation data. In addition, 52°North is developing an event-based and highly scalable stream processing approach for the efficient and distributed processing of observation and measurement data. This forms the technical basis for the integration of in-situ data, which are merged "on-the-fly" from different data sources (data fusion) and integrated into the automated processing processes. 52°North is responsible for the development of the overall architecture and contributes significantly to the integration and validation of the solution's approach.
After project initialization in 11/2017, a detailed analysis of the requirements and the available data, as well as the creation of an architecture concept for the entire system, took place. Subsequently, the critical components of the overall system were prototypically implemented and integrated (technical prototype). This served to test the feasibility of the architectural concept and to evaluate alternative solutions. The development of scalable process chains for the processing of satellite and in-situ data with BigData technologies such as Apache Spark, Apache Kafka, Docker and kubernetes formed the focus of the work. Implementations also explored the usability of the Copernicus CODE-DE and Mundi Web Services platforms, as well as the link with Esri's ArcGIS platform.