Large-Scale Monitoring of Flooded Areas
Integration of satellite and in situ sensor data for improving the automated large-scale monitoring of flooded areas
The SenSituMon Project developed and tested innovative methods and technologies to generate near real-time information products from satellite and in situ sensor data for large-scale monitoring of flooded areas. Research results serve as a basis for the development and commercialization of operational services based on the Copernicus earth observation system and other satellite missions.
Insurance companies require up-to-date information regarding location, intensity and duration of floods for rapid response to damages caused by flood-related events. In addition, they need to document the flooding history so that detailed information about the occurrence, frequency and duration of flooding events for the affected areas is available. This information can be used, for example, to validate flood risk assessments.
The project analyzed additional requirements for monitoring flooded areas for further applications in agriculture and water management. Work initially focused on North Rhine-Westphalia in Germany. Based on the results of this project phase, the scalability of the approach for Germany and Europe has been assessed.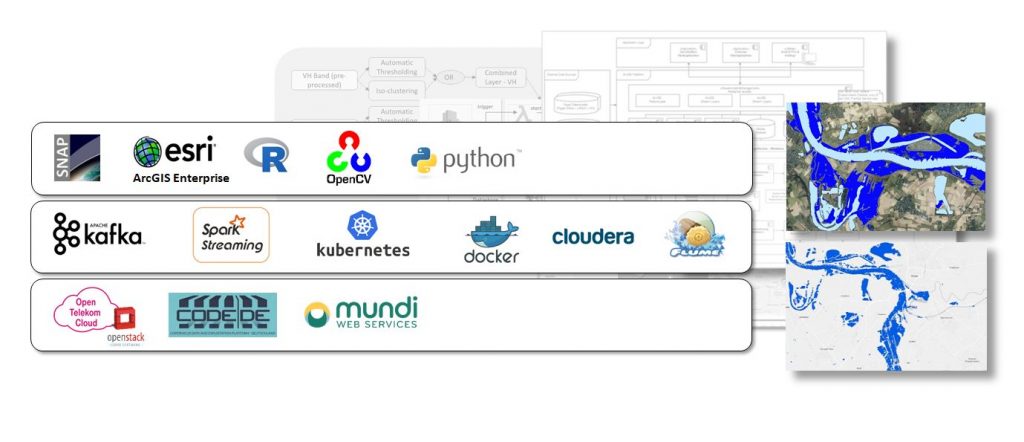 52°North developed and evaluated new methods for automating spatio-temporal delineation of flood events from meteorological and hydrological measurement and observation data, such as RADOLAN (German Weather Service) and Pegel-Online (German Water and Shipping Administration). This information is used to focus data analysis that requires intensive resources on regions where significant flooding cannot be ruled out. We also established an event-based and highly scalable stream processing infrastructure for efficient and distributed processing of observation and measurement data. This forms the technical basis for the integration of in situ data that are merged "on-the-fly" from different data sources (data fusion) and integrated into the automated processing workflow. Our team was responsible for the development of the overall architecture and contributed significantly to the integration and validation of the solution's approach.
We implemented Docker, Kubernetes and Kafka-based components of the processing infrastructure and integrated them with the ArcGIS-based data and visualization services to form a complete system. In addition, our team deployed the complete infrastructure in the Copernicus DIAS platform Mundi Web Services. The system has been running in a test and validation mode since mid-2019. In 2020, we finalized all project work.