Multi-risk Analysis and Information System Components for the Andes Region
Developing novel concepts and components for multi-risk assessment of natural hazards
The RIESGOS project addresses challenges of increased risks to society caused by natural hazards, such as volcanic eruptions,  earthquakes or tsunamis. For this purpose, it aims at more efficient risk management based on more reliable information. A particular strength is that it addresses complex interactions, such as cascading effects of certain hazards as well as many of the underlying sources of uncertainty. RIESGOS develops novel scientific approaches related to the assessment of different hazards and risks. This includes the analysis of dynamic exposure, vulnerability and
the modelling of cascading effects and possible failures. Modular Web services integrated into a flexible and scalable multi-risk information system demonstrator will be the foundation of the RIESGOS software architecture. As a result, end users from civil protection and disaster management authorities will receive tools to simulate and analyze complex multi-risk scenarios. These are complemented by the development and investigation of strategies for information-based and dialogue-based risk communication. The main goal of 52°North's activities is the conceptual design and implementation of an interoperable architecture for a multi-risk analysis and information system for the Andes region.
The 52°North tasks comprise:
the analysis of requirements
the development of a software architecture following international standards to ensure interoperability (e.g. INSPIRE, OGC)
the implementation of selected components (data access, data analysis and processing, communication) into demonstrators, as well as
a contribution to market analysis and the development of exploitation perspectives (focus on the publication as open source software).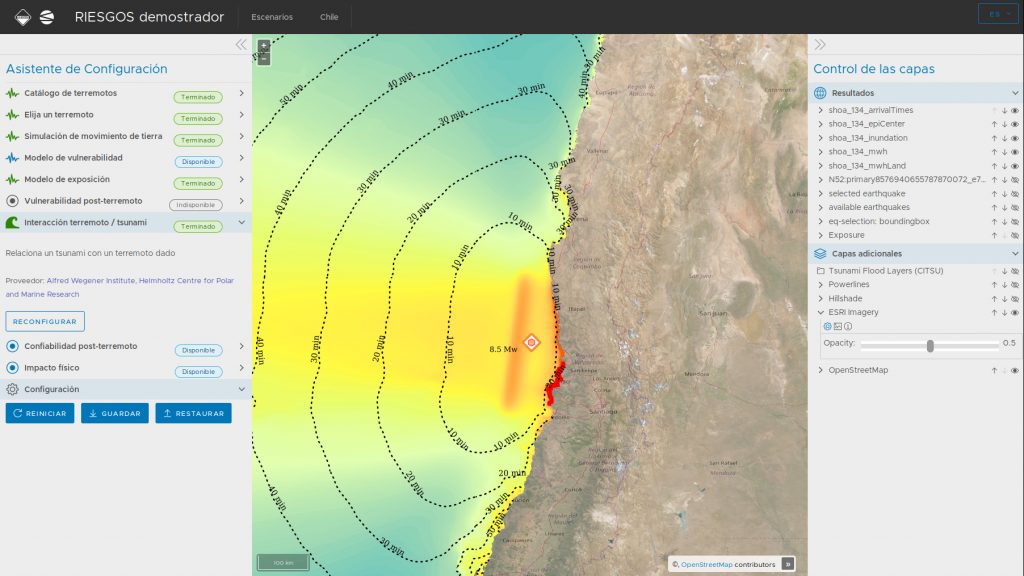 2019 was an important year for RIESGOS. The system architecture designed had to be implemented and initiated. 52°North's efforts focused on the development of interoperable web services for the different thematic processes and simulation models. The javaPS – a modern implementation of the OGC WPS 2.0 standard – played an important role in the realization. The different processes were put together in a demonstrator application (developed by the DLR), which realized the orchestration of the different thematic models into scenario-driven workflows.