Citizen Science for Traffic Management
Improving the provision of information for traffic management to further environmentally aware driving behavior
The CITRAM project develops new concepts and technologies to improve the provision of information for traffic management and further the development of environmentally aware driving behavior. At the heart of this project is a coupling of system components that enables scientists, traffic engineers and citizens to collaborate on gaining knowledge about how vehicles are driven in motorized traffic (Citizen Science for sustainable mobility).
The Urban Institute provides data from its municipal information infrastructure (IoT platform Urban Pulse) and develops a traffic light phase assistant (EcoMat), which takes into account the dynamic control of traffic light systems. Deggendorf University supports the integration of electric vehicles. 52°North complements the existing Citizen Science platform enviroCar with interfaces to the urban information infrastructure and electric vehicles, develops new and improved analysis functions, and supports near-real-time communication with the rest of the system components. Based on the data generated by the system components of the partners, TSC Traffic Engineering develops value-added services for municipal traffic management. The concepts and developments are evaluated through measurement campaigns and practical tests in the cities of Krefeld, Hamm and Chemnitz.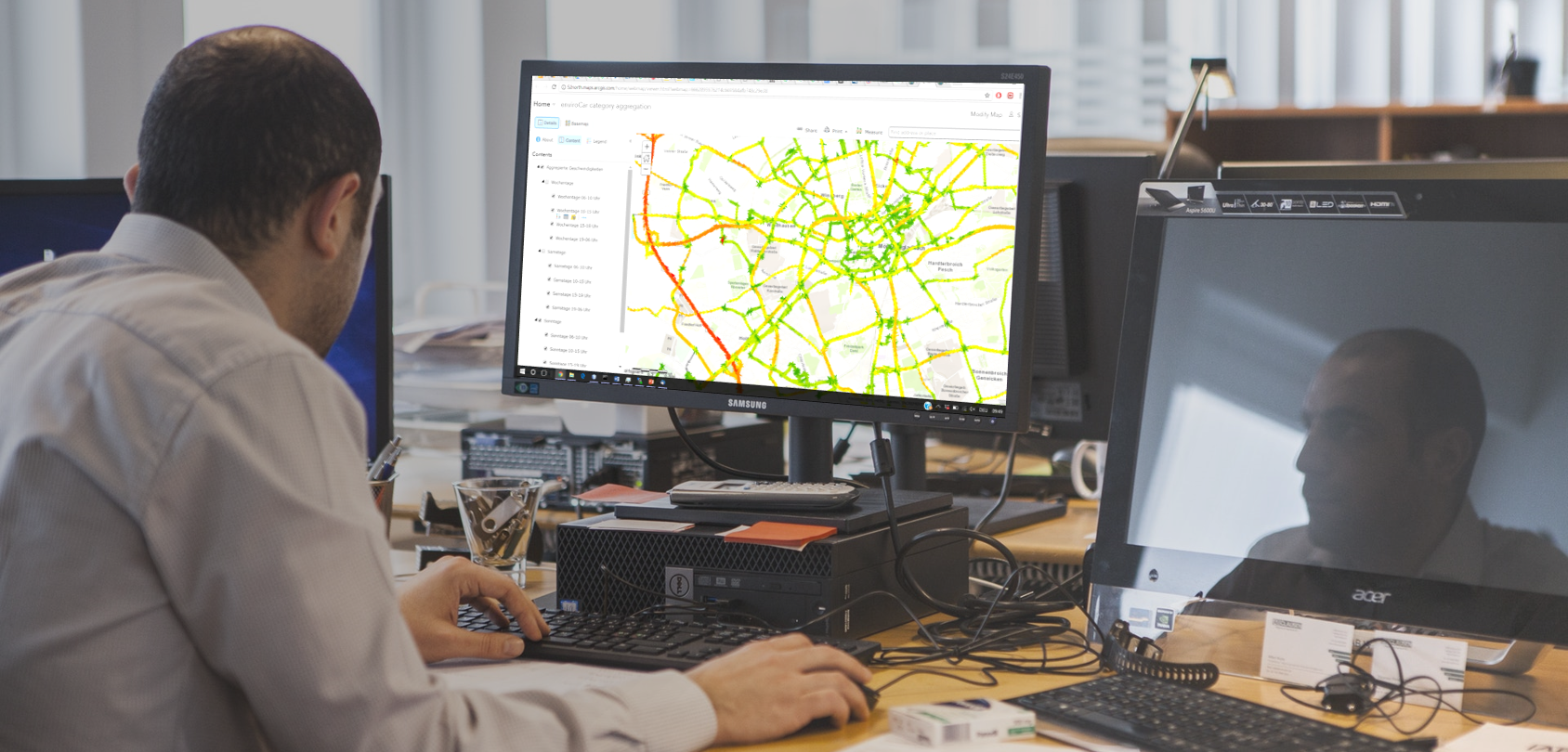 New and improved analysis methods

52°North's main task is the development of new and improved analysis methods for XFCD trajectories. New features include the real-time aspect of data processing, the support of data from electric vehicles, and the enhancement of MapMatching and HotSpot analysis for road network-related data (such as energy consumption). The efficient integration of the Citizen Science platform enviroCar into an open landscape of data providing systems (eg Urban Pulse, motorized vehicles, drivers as sensors) and information retrieving systems (e.g. QAD Services, driver assistance systems) calls for new architectural concepts that cover the aspects of event driven systems, scalable process chains and lightweight microservices.
The first phase of the project focused on requirements analysis and developing an architectural description of the overall system with its components and interfaces (computational model).