Data Management for Citizen Science Projects
Building capacity for integrated governance at the food-water-energy-nexus in cities on the water
Creating Interfaces explores socio-technical interfaces at the food-water-energy (FWE) nexus in cities near water. Aiming to increase urban  sustainability, resilience, and quality of life, this project works to build local capacity through innovative approaches in coordinated knowledge creation, governance and exchange.
A multi/transdisciplinary, international team representing natural and social sciences, humanities, engineering, data and computer sciences, urban planning as well as civil society and business actors conducts research on stakeholder interactions and decision making in the FWE sectors. It explores data governance and investigates novel approaches in  participatory knowledge generation and Citizen Science along with their implementation. The project helps to answer central questions surrounding the integration of such novel means of citizen-driven knowledge creation into the governance process and urban infrastructure planning procedures. Common research frameworks and a close interdisciplinary and transdisciplinary cooperation provide a basis for comparative analysis and co-production of transformative knowledge.
The development of socio-technical interfaces and decision support tools is driven by the needs of stakeholders, the FWE actors, and members of the public following an Urban Living Lab framework. This approach involves an integrative, interactive, and iterative process of stakeholder engagement to develop innovative interfaces and achieve the goals mentioned above.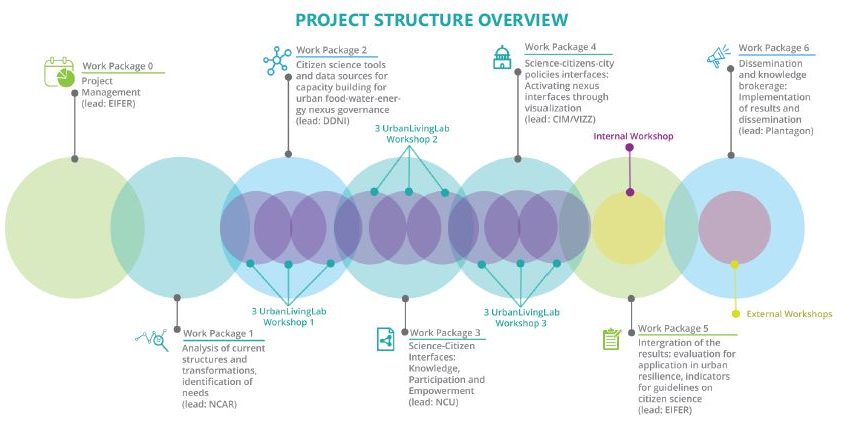 52°North focuses on the development of interoperable Citizen Science and decision support workflows for providing data collection and analysis functionality. This is part of the Urban Living Labs and Citizen Science approaches in the three partner cities: Tulcea (Romania), Wilmington (USA) and Slupsk (Poland). For this purpose, 52°North evaluates existing Citizen Science concepts, advances the identified baseline components and contributes its findings to international standardization activities aimed at increased interoperability among Citizen Science projects. This also includes customization of identified tools and frameworks according to specific requirements.
52°North's work in 2019 comprised the evaluation of suitable technologies for enabling the data collection and data management of Citizen Science projects. The 52°North team investigated the wq framework, Survey123 for ArcGIS and the Open Data Kit. We subsequently adjusted the wq framework based on the project requirements.
In addition, 52°North contributed to the first phase of the OGC Citizen Science Interoperability Experiment by setting up an SOS server to handle Citizen Science air quality data. The results will be published as a dedicated OGC Engineering Report.